Month:
July 2016
A new law seeks to cap Bank interest rates. Larry Madowo interviewed a power panel comprising of Anzetse Were – Economist, Habil Olaka – Chair Kenya Bankers Association and Jude Njomo – MP Kiambu Town on the proposed legislation.
This article first appeared in my weekly column in the Business Daily on July 17, 2016
—

Africa, East Africa in particular, is gearing up for industrialisation and will continue to position itself as the next and last manufacturing frontier in the world. Wages in Asia continue to rise and in China's coastal factories noteable increases in wages have occurred over the past 10 years making the country a less attractive manufacturing hub. As a result, factories may relocate and although some may move to inland China, Bangladesh or Cambodia, Africa has appeared on the radar as a viable option.
The World Bank reports that Ethiopian factory wages for unskilled labour are a quarter of Chinese wages. Indeed, East Africa in general is increasingly becoming a focus of attention for the development of manufacturing in Africa; interest in textile and apparel is particularly high. A report by McKinsey makes the point that within sub-Saharan Africa, East African countries, especially Ethiopia and Kenya, are of interest to international apparel buyers. Indeed, for the first time an Africa country, Ethiopia, appeared on the list of countries expected to play more important roles in apparel manufacturing. Kenya and Ethiopia were the top two countries in Africa where global apparel buyers expect to start or increase apparel sourcing. The popular view is that Ethiopia is seen as particularly attractive due to lower labour costs but Kenya is considered to have higher labour productivity. These two factors, namely labour cost and labour productivity, will come under increasing scrutiny if Kenya, and the region, is to effectively position itself as a global manufacturing hub.
(source: http://www.fashionatingworld.com/images/kenya.jpg)
If one were to look at these two elements in Kenya an interesting picture emerges. According to the Kenya Country Economic Memorandum 2016 by the World Bank, Kenya has a higher minimum wage than other countries assessed including India, Pakistan, Uganda, Vietnam Bangladesh and Cambodia. The McKinsey report makes the point that manufacturers listed wages as a key challenge of doing business in Kenya where monthly wages for garment workers are in the $120 to $150 range. So selling the cheap labour story in Kenya is a tough sell if sustained interest in manufacturing, especially labour intense manufacturing such as textiles, is to be maintained.
The other angle Kenya would have to push to stand out from the East African crowd would have to be productivity. Here the story is mixed; in June this year a World Bank revealed that Kenyan workers are less productive than their counterparts in Uganda and Ethiopia. However, this is informed by the fact that almost 80 percent of Kenyans are employed in the informal sector which suffers from particularly low levels of productivity. Low productivity in the informal sector dragged the productivity average down. Indeed the World Bank reports stated that labour productivity in Kenya is significantly higher in the formal than in the informal sector. In fact a World Bank study released this year found that even when formal micro-enterprises are compared to informal enterprises labour productivity for micro firms is about 8.4 times that of informal firms surveyed Thus Kenya is in a situation where most people in the informal sector have very low levels productivity juxtaposed with pockets of people with formal jobs who have high levels of productivity. So key questions are: If Kenya is position itself as a manufacturing hub, will formal manufacturers be the only attractive option due to high levels of productivity? What does this mean for job creation in a country with high levels of unemployment? Other questions include: What in formal employment makes Kenyans more productive? How can labour in the informal sector (including informal industry) be made more productive? And is formalisation the only answer?
(source: http://www.businessdailyafrica.com/image/view/-/1237146/medRes/295299/-/maxw/600/-/2fg1i1/-/informal+sector.jpg)
The point remains however that on average, wage and productivity dynamics in Ethiopia and Uganda are better than Kenya's. Some argue that comparing Kenya with Uganda and Ethiopia is not useful because conditions differ so greatly between the countries. Kenya is a democracy while Ethiopia and Uganda lean more towards autocratic rule. From an investor and business environment perspective each governing model has its pros and cons.
In short, in order to position itself as an attractive manufacturing destination, Kenya will have to address the issues raised by wage and productivity analyses, while continuing to work on structural constraints such as access to finance, electricity, transport infrastructure and ICT networks.
Anzetse Were is a development economist; anzetsew@gmail.com
This article first appeared in my column with the Business Daily on July 10, 2016
—
As an independent economist and consultant I have the opportunity to do interesting research and analytical work in the country, region and continent. Recently, I have been interviewing numerous individuals and organisations on what constraints negatively inform the economic development of the country. One issue I seem to bump into regularly is the financing of businesses in the country. I always hear about how access to finance is an issue for most businesses, particularly SMEs.
The general complaint is that the conditions of financing, particularly the onerously high interest rates, negatively inform access to finance from SMEs- and I agree. In order to meet the demands of current interest rates, a business has to be ridiculously profitable from the second they get the loan in order to service the loan. As a result, SMEs across the country often resort to financing from mainstream channels as a last resort. SMEs will often start with raising funds from friends, family and informal financial channels such as merry-go-rounds, and only if these fall short will they resort to loans, and only if they qualify.
(source: https://www.newsghana.com.gh/wp-content/uploads/2015/02/wpid-US-injects-2bn-into-SME-development-in-Nigeria.jpg)
So given this state of affairs, one must ask: Are there alternative sources of finance for SMEs, particularly sources of finance that are more patient? And the answer is yes. Getting finance from equity sources ought to be seriously considered as the business profit schedule can be more realistic and there is no pressure to meet periodic and generally inflexible debt payments. Yet, there seems to an articulated reluctance in the Kenyan context to engage in equity financing.
For example, I was talking to someone who understands the equity space in Kenya and the USA. In the USA, private equity funds are sought after by businesses for financing. In Kenya however, the situation is different and it is not uncommon for equity players to have to take the initiative and actively look for projects that could qualify for their financing. Whereas demand chases supply in certain parts of the world, it appears that supply has to stimulate demand when it comes to equity financing in Kenya. I continue to hear players in the equity (and other) financing spaces complain that there is more money than there are bankable projects. Thus the irony seems to be that there is money looking for homes in Kenya but there does not seem to be a sufficient number of viable projects to absorb the money- unless investors aggressively seek out these projects.
So naturally my question is why? Why aren't Kenyans positioning their businesses to better leverage equity financing? Equity tends to be more patient than debt, and given the fact that business in Africa can be unpredictable, why isn't such patient financing more attractive to Kenyans? The resounding answer I got is control. Kenyan businesses seem to be especially reluctant to take on equity financing because they will have to cede a certain amount of control over their business to 'others'. This predisposition is particularly strong in family businesses in Kenya, some of which are big players in the Kenyan business context. Rather than cede control to external investors in equity deals, many businesses would rather just maintain control and contend with the debt market. It seems as though many Kenyans would rather get a loan from a bank or just let their business bumble along at its current size, than cede board positions and crucial management decisions to 'outsiders'.
Other factors that seem to discourage the uptake of equity is that debt is easier to access and firms are not put under great scrutiny as tend to be the case with equity deals. Further, there seems to be a lack of understanding of equity financing and how it can be leveraged for firm growth.
(source: http://www.getequityfunding.com/publishImages/index~~element54.png)
In some ways this is a shame because although I understand the predilection for maintaining control, if Kenyan businesses are hesitant to take on equity, this reluctance may be negatively informing the ability of businesses to expand and grow. We can all think of businesses, massive businesses, which have benefitted from equity financing around the world. So rather than associating equity with ceding control or being intimidated by the lack of understanding on this type of financing, perhaps Kenyan businesses should take a deeper dive into how equity can be of benefit to their businesses. After all, a diversified financing strategy can only be a good thing.
Anzetse Were is a development economist; anzetsew@gmail.com
This article first appeared in my weekly column with the Business Daily on July 3, 2016
—

Last week it emerged that Treasury had overshot its domestic borrowing target. Net domestic debt hit KES 446.6 billion in May, one month before the end of the fiscal year, against the annual target of KES 397 billion. That is an overshoot of KES 49.6 billion. To make matters worse, the accelerated domestic borrowing has been mostly used to fund the recurrent budget. The root of this problem is multi-layered but a key element of this overshoot is that when developing the budget, Treasury uses overly generous domestic revenue numbers. In the analysis of the FY 2016/17 budget the Parliamentary Budget Office (PBO) made an important point; to avoid a big financing gap during the budget approval process, domestic revenues are nudged to their limits so as to accommodate excess spending plans and curb debt financing.
We have seen that revenue collection repeatedly falls short of the target year after year. FY 2015/16 was no different; the KRA had in the 11 months to May collected KES 987 billion, more than KES 200 billion below the annual target of KES 1.2 trillion. Although the inclination is to blame the KRA for under-performing, I am of the view that KRA is given unrealistic targets each FY. These targets seem more informed by ballooning government expenditure and seem oblivious of the serious structural constraints that mute tax collection such as a sizeable informal economy largely out of the tax net. The bottom line however is that there should be far more concern that government seems to have the habit of using overly generous domestic revenue numbers when formulating the budget hiding the eventuality of having to increase borrowing during the course of the FY. There are several implications of this problematic habit.
(source: http://aa.com.tr/uploads/Contents/2015/12/08/thumbs_b_c_e8fd349e2614822b5d973b294371b9cc.jpg)
Firstly, when the annual budget is announced, fiscal deficit figures are artificially low. Because government uses such generous domestic revenue numbers, it artificially narrows the gap between revenue and expenditure. This creates an inaccurate perception of just what the real budget financing shortfall is. As a result, Kenyans and those interested in the country are given the impression that the fiscal deficit is not as large as actually would be the case if the more realistic revenue numbers were used. From where I sit, the use of these inaccurate numbers comes across as a PR strategy by government to make it look as though the budget is more sustainable than is actually the case.
Secondly, due to artificially narrow fiscal deficit numbers, the budget then sets out lower numbers for debt financing needs than what emerges in reality. As a result Kenya's debt seems more sustainable than is the actual case hiding the fact that Kenya is more leveraged than formal figures used in the budget suggest. As is the case this year, because those domestic revenue numbers were too generous, government has had to finance the deficit created by this shortfall through further borrowing; pushing up the GDP to Debt ratio. Although it must be said that Kenya's GDP to Debt is still manageable, a continued trend of increasing borrowing in supplementary budgets is worrying as government then has to put even more of future budgets aside to service this 'unforeseen' borrowing, increasing the debt burden on a relatively poor economy.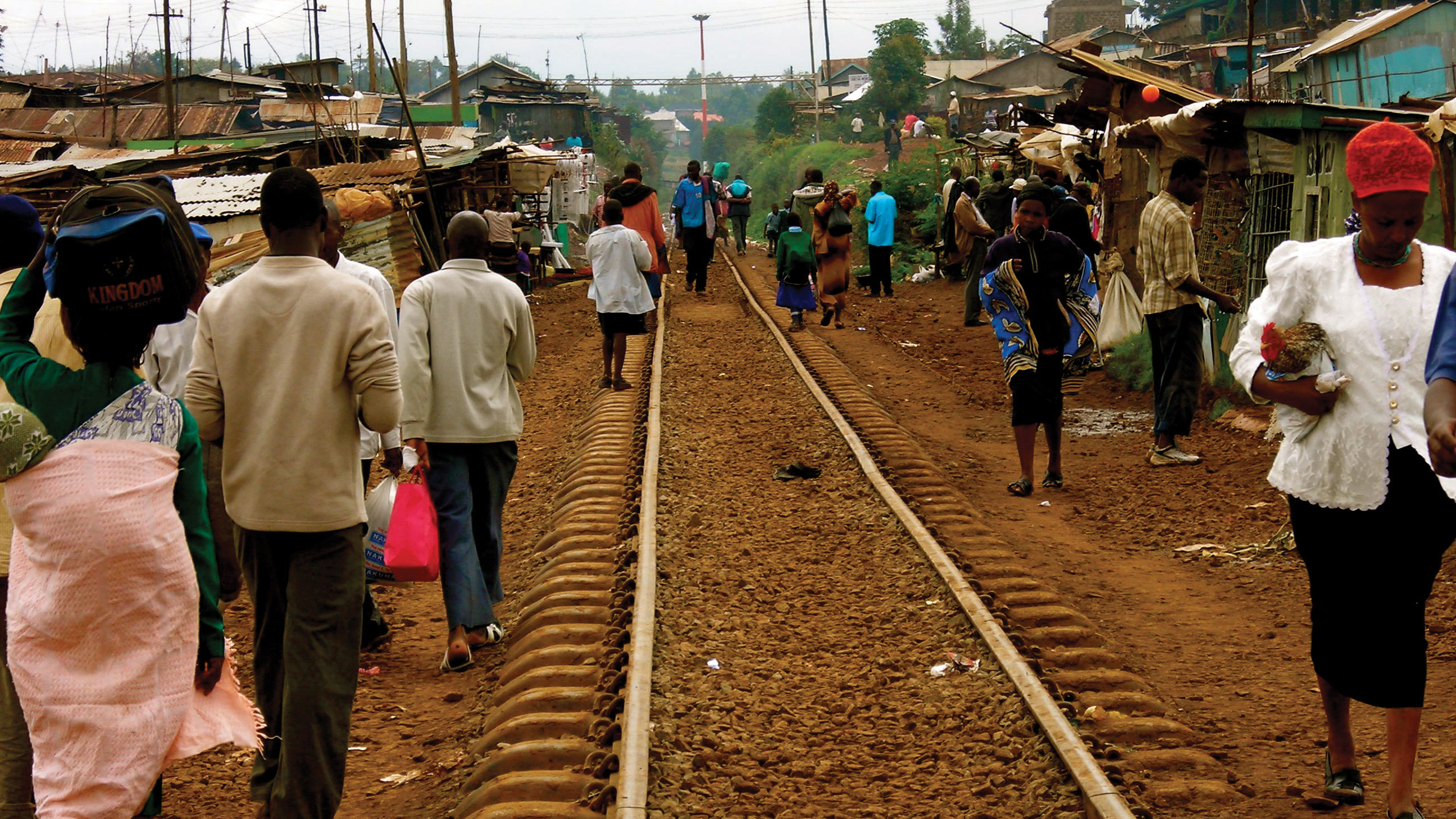 (source: https://saylordotorg.github.io/text_world-regional-geography-people-places-and-globalization/section_10/8f8aef9223c1ff538aed3242447d29b8.jpg)
Finally, the government invariably goes to domestic sources to finance this funding gap which is problematic for several reasons. Not only does government crowd out private sector in the domestic borrowing space, substantial increases in domestic borrowing by government invariably places upward pressure on domestic interest rates making credit even more unaffordable for millions in Kenya. And although domestic borrowing conditions are more expensive than foreign borrowing and often have no grace period, government does this 'emergency borrowing' in local markets because they are guaranteed that they will get access to the funds and within a reasonable time period. As a result all government proclamations, strategy and intent to ensure foreign borrowing preponderates so as not crowd out the domestic space do not truly materialise and this has a negative knock on effect on economic growth.
It is time that Treasury used more realistic domestic revenue figures when developing the budget. The continued use of overly generous figures is not only imprudent, it's dangerous.
Anzetse Were is a development economist; anzetsew@gmail.com