authoritarianism
This article first appeared in my weekly column in the Business Daily on December 10, 2017
—
I've been thinking about China's growing influence in Africa, and whether it is linked to growing autocracy on the continent, especially the East Africa region. However, it is not China alone that seems to be informing a move towards authoritarianism in the region. When Africa is given examples of countries that managed to catch up economically, the Asian bloc is often presented as the case study. Look at Singapore, Vietnam, China, Malaysia, Japan and South Korea, we're told, they all managed to pull millions of out poverty and substantially improve the quality of life of their citizens in a relatively short period of time. What is not mentioned is that, for the most part, these countries were developed or are still developing under an autocratic state-led capitalism model where government drives and leads the articulation of capitalism and, to a greater or lesser extent, monitors and guides its evolution.
(source: www4.pictures.zimbio.com/gi/Beijing+Municipal+Congress+Communist+Party+AYzoNUVRU8Al.jpg)
Africa is also not told that even Europe and North America made significant economic gains using models that were not democratic. The USA relied on the slave trade and slave labour to build wealth that was then used to drive industrialisation. Much of Europe relied not only on financial involvement in the slave trade to amass wealth, but also colonialism which played an important role in providing colonial powers with land and labour that generated immense profits that were then repatriated to European metropoles.  So some are asking: Why is Africa being told that the continent must develop under a democracy when so many others haven't? And is this the most efficient path towards economic development?
In East Africa, we can see a move towards autocracy; indeed it can be argued that Kenya is the only viable democracy left. Ethiopia and Rwanda have made no secret of the fact that they are essentially autocratic states. Uganda has been under the hand of Museveni for well over 30 years and in Burundi President Nkurunziza seems bent on retaining control and extending his autocratic rule beyond constitutional provisions. In Tanzania, signs of autocracy are emerging given that the chief whip of the opposition party was shot, and President Magafuli shut down several newspapers.
(source: http://www.businessdailyafrica.com/image/view/-/4222430/medRes/1832547/-/maxw/960/-/g7bbas/-/china.jpg)
Beyond philosophical questions as to why there seems to be growing autocracy in the region, international dynamics are also playing a role, specifically growing insularity in Europe and North America. The Trump Administration hasn't even bothered to table a strategy for Africa and Europe seems preoccupied with Brexit, anti-immigration sentiment, and calls to use European money on Europe rather than on 'others'. As a result, the voice from the global north that lectures Africa on the merits of democracy is receding and the power vacuum is intensifying the influence of autocratic China in Africa. Indeed, the autocracy that is emerging in Africa seems to be modelled more against the technocratic autocracies of Asia rather than the old African autocratic model exemplified by leaders such as Idi Amin, Mobutu, Mengistu and more recently, Mugabe.
It seems it is time for Africa to ask itself some tough questions: Should growing autocracy be encouraged? And if so, what will it cost Africans in terms of freedom of expression, human rights and political freedom? Or is democracy, despite all its problems, still the best way forward for the continent?
Anzetse Were is a development economist; anzetsew@gmail.com
This entry was posted in Africa, Burundi, Development economics, Economics, Ethiopia, International Finance, Kenya, Political Economy, Politics, Rwanda, Tanzania and tagged authoritarianism, autocracy, China, Democracy, Ethiopia.
On December 3, 2017 I featured on the China Africa Project Podcast with Eric Olander and Cobus van Staden where we discussed growing authoritarianism, in East Africa in particular, and the role of China in challenging the notion that democracy is the best governance model for Africa.
This entry was posted in Africa, Economics, Ethiopia, Kenya, Political Economy, Politics, Rwanda, Tanzania and tagged authoritarianism, autocracy, China.
This article first appeared in ChinaFile on November 28, 2017
—
Though not in the headlines, China is operating in an East African region that is becoming increasingly autocratic and authoritarian. The East Africa region in this article refers to the countries of Kenya, Uganda, Tanzania, Rwanda, Burundi and Ethiopia. It can be argued that in the region, Kenya is the only viable democracy left.
President Kagame of Rwanda has made headlines in the region for what appears to be the open targeting of Diane Rwigara who tried to run against him in elections earlier this year. Ethiopia has been ruled by the same party since 1991, with marked intolerance of opposition, evidenced in the imprisonment of political dissidents. Uganda has been under the hand of Museveni for well over 30 years and in Burundi the International Federation for Human Rights claims the crisis there has left at least 1,200 dead and 10,000 imprisoned for political reasons. In Tanzania, the chief whip of the opposition party was shot, opposition figures have disappeared, and in September, President Magafuli closed a third newspaper since June as part of a media crackdown.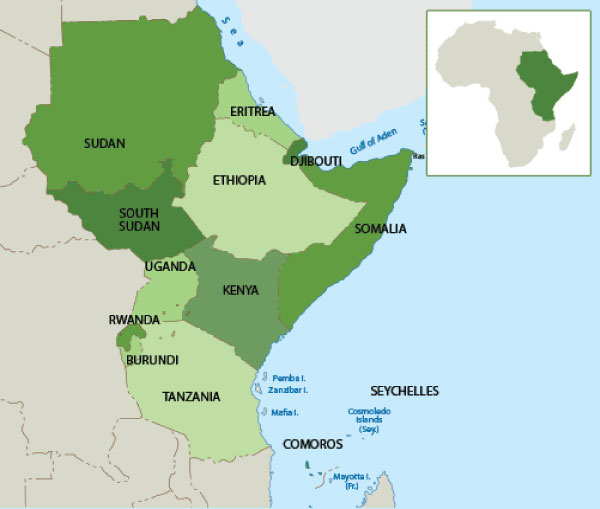 (source: https://elimufeynman.s3.amazonaws.com/media/resources/kenya-img1.jpg)
The trend towards autocracy and authoritarianism in the region cannot be ignored and will have several implications for China. The first is that while it could be argued that it is easier for China to work with governments that do not have to deal with the complications of a robust democracy, there is growing unrest in domicile populations in the region. And although authoritarian East African governments may assure China and the Chinese private sector, that unrest is being 'managed', the reality is that it can grow to unmanageable levels, compromising Chinese investments. The Chinese private sector is already feeling the pinch where both last year and this year, protesters in Ethiopia destroyed Chinese factories and assets in anti-government protests.
The second concern China should have is that it is the very authoritarianism in the region that may make countries more difficult to deal with because decisions can be made unilaterally with no consultation or explanation given. It is possible that such decisions could negatively affect Chinese interests in the region and given the strong arm of government in most of the region, trying to seek redress through legal means would likely be futile. Further, China has branded itself through its non-interference policy. Will this position change if the action of authoritarian governments threaten Chinese investments in the region?
(source: img.bhs4.com/34/f/34f19c14318e7c049b8e60d2c327d6d9c16627c6_large.jpg)
Finally, Zimbabwe provides an important lesson for China. China put all of its eggs in the basket of Mugabe's autocratic rule. With Mugabe no longer in rule, there is surely concern as to how China will protect its investments and economic position in the country. And this is the fundamental problem with China continuing to interact with openly authoritarian governments; China can never be sure that the next ruler will treat them as well as his predecessor did. Will China be prioritised in Zimbabwe as other economically powerful countries and companies jostle to enter the country?
It will be interesting and see how both the Chinese government and private sector continue to operate in a region of growing autocracy and authoritarianism both of which pose considerable risks to China's investments in the region.
Anzetse Were is a development economist; anzetsew@gmail.com
This entry was posted in Africa, Development economics, Economics, Ethiopia, Kenya, Political Economy, Politics, Rwanda, Tanzania and tagged authoritarianism, autocracy, China, East Africa, Zimbabwe.