China
This article first appeared in my weekly column with the Business Daily on December 26, 2017
—
About two weeks ago Trump released his national security strategy where, for the first time it seems, Africa was directly addressed. Trump made two intentions clear in the strategy in terms of his economic focus for Africa: the first is that he recognises Africa's potential as a market for American goods and as a means of building wealth for Americans. Second, he wants a clearer shift from aid to economic partnership. What is not clear is how Africa will benefit from the plan beyond his support for economic integration and an improved business environment (both of which are already priorities for most African governments). His plan puts the USA's interests first, as per Make America Great Again (MAGA), but it fails to articulate how expanded economic cooperation with the USA will benefit African nations and citizens. In short, Trump's economic plan for Africa is MAGA on steroids. His obsessive focus with 'America First' will clearly extend beyond the borders of the USA, and Africa is a mere player in the larger plan to re-establish the global economic dominance of the USA. Whether Africa will benefit seems to be of little consequence.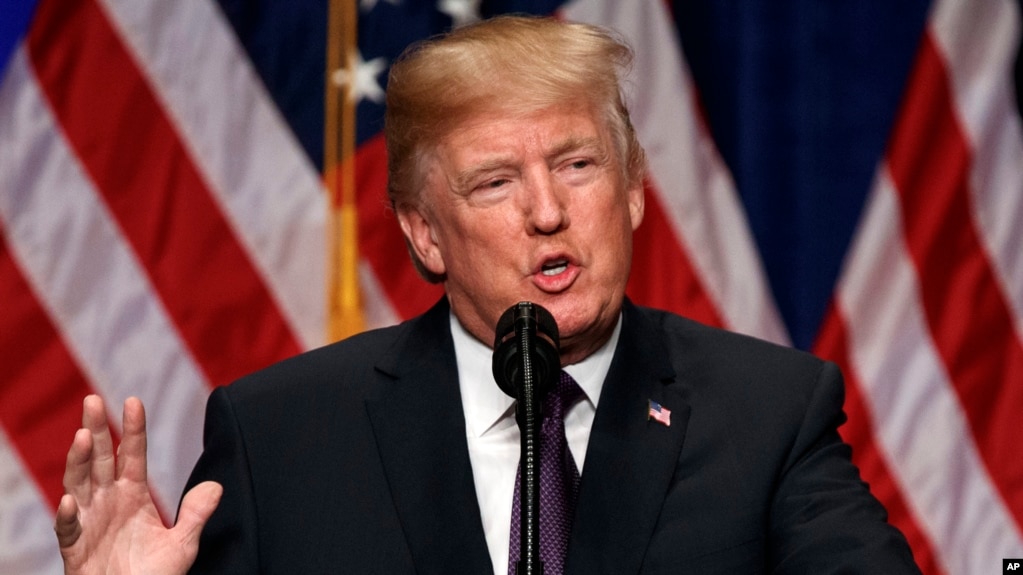 (source: https://www.voanews.com/a/trump-to-unveil-new-national-security-plans/4168148.html)
Another element that is clear in his plan is that he wants to kick China out of Africa and take back dominance on the continent; his distaste with China is clear. Through the plan, Trump seeks to make the USA an alternative to 'China's often extractive economic footprint on the continent'. What is not clear is how kicking out Chinese interests and replacing them with those of the USA will be of use to Africa. Will investments from the USA be more generous and attractive than China's? Will goods from the USA be more competitive than those from China? Will investments from the USA create more jobs for Africans than is the case with China's? Will credit lines from the USA be more affordable than what China offers? There are no answers to these basics question in the strategy.  Instead what we get is the argument that the USA is inherently better for Africa than China- just because.
As can be expected, the plan is already being criticised. China and Russia take issue with being labelled as competitors that challenge American interests. The language of 'us versus them', particularly with regards to China comes out clearly. A pessimist looking through Trump's strategy would argue that he's setting up for a proxy war with China over Africa.
(source: thenakedconvos.com/wp-content/uploads/2012/09/china_africa_us1.png)
However, the most puzzling feature of the strategy, in terms of the economic focus on Africa, is the language. Aren't we taught in Strategy 101 that one ought not announce plans for dominance as 'plans for dominance'? One ought to use amicable language that highlights the benefits of mutual cooperation and economic partnership—which is what China does. Strategic language underplays true intentions of dominance and instead uses language that will put everyone at ease and welcome the player onto the field. However, rather than discretion, Trumps language boldly announces his plans to make the USA boss of Africa again and thus, transparently, makes his strategic objectives obvious to all.
Anzetse Were is a development economist; anzetsew@gmail.com
I talked with Eric Olander of The China Africa Project on growing Chinese debt in Africa.
This article first appeared in my weekly column with the Business Daily on May 21, 2017
—
Last week China announced a plan to build a vast global infrastructure network linking Africa, Asia, Europe and the Middle East into 'One Belt, One Road'. China plans to spend up to USD 3 trillion on infrastructure in an effort that seems to be centred more on linking 60 countries in the world with China, not necessarily each other. This One Belt initiative is perhaps part of China's determination to position itself as the world's leader in the context of Trump's insular USA. This initiative has two-fold implications for Africa: the opportunities and potential problems that it creates.
(source: https://qz.com/983581/chinas-new-silk-road-one-belt-one-road-project-has-one-major-pitfall-for-african-countries/)
In terms of opportunity, obviously African needs continued financial support in infrastructure development. The Africa Development Bank (AfDB) estimates that Africa's infrastructure deficit amounts to USD 93 billion annually until 2021. In this sense any effort to support the development of Africa's infrastructure is welcome.
Secondly, this is an opportunity for Africa to negotiate the specifics of the type of infrastructure the continent requires and create a win-win situation where Africa leverages Chinese financing to not only address priority infrastructure gaps, but also better interlink the continent.
However there are multiple challenges the first of which is that Europe, India and Japan seem edgy about this initiative and have distanced themselves from it. According to India's Economic Times, India and Japan are together embarking upon multiple infrastructure projects across Africa and Asia in what could be viewed as pushback against China's One Belt initiative. The countries have launched their own infrastructure development projects linking Asia-Pacific to Africa to balance China's influence in the region.
Europe is also edgy because the initiative has not been collaborative and comes across as an edict from China; countries in the initiative were not consulted. Europe is also uneasy with the lack of details and transparency of the initiative seeing it as a new strategy to further enable China to sell Chinese products to the world.
Secondly, analysts have pointed out that from an Africa perspective, the One Belt seems to continue the colonial legacy of building infrastructure to get resources out of the continent, not interlink the continent. Will the initiative entrench Africa's position as a mere raw material supplier to China and facilitate the natural resource exploitation of the continent?
(source: africanbusinessmagazine.com/wordpress/wp-content/uploads/2017/01/Africa-infrastructure-1k.jpg)
Additionally, there are concerns with how the financing will be structured and deployed. Will financing be debt or grants? It can be argued that China needs to increase its free aid toward Africa in order to build its image as a global leader. Further, who will build the infrastructure? Africa has grown weary of China linking its financing to the contracting of Chinese companies. Will this infrastructure drive employ Africans and use African companies? If not, then it can argued that Africa will merely be borrowing money from China to pay itself back.
Linked to the point above, is the fact that Africa is already deeply indebted to China. In Kenya, China owns half of the country's external debt. Kenya will pay about KES 60 billion to the China Ex-Im Bank alone over the next three years.  Kenya and Africa do not need more debt from China, and if this initiative is primarily debt-financed (in a non-concessionary manner), it will cause considerable concern in African capitals.
Anzetse Were is a development economist; anzetsew@gmail.com
I joined Eric Olander and Cobus van Staden on the China in Africa Podcast to discuss my recent column on how Africa is bracing for a Trump-inspired shift towards to China in response to the new U.S. president's apparent determination to shake up the international order.